Day's End - Devereux Slough 20x20x2 O/C
Deciding what to paint
I was with my daughter in Santa Barbara. Her son used to go to a preschool just north of the UCSB campus near the Devereux Slough. As we drove toward campus to pick him up, we saw a beautiful orange sunset reflecting in the waters of the slough. It was a wonderful scene!
My PAC6 pals and I have a show coming up early next year (in February) called "Take Two". We will paint the same place at either two different times of day or during two different seasons. It sounds like it will be a fun show and I am hoping to create some worthy "takes". I had already painted a plein air piece that I liked at the Slough so a scene at the end of the day seemed like a perfect match.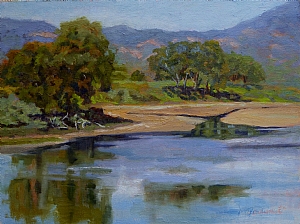 When I actually got down to painting it, I decided that I liked a sunset sky from a cruise photo I had taken better than the sky in actually over the slough so I used the slough scene and added the cruise sky.
Inspirations
Each time I try to create a painting I have a goal in mind. This time, I was working on using layers of paint and practicing the color theory and color transitions that my mentor,
David Gallup,
has tried to teach us. I have been having such a hard time trying to "make it my own" -- to demonstrate my understanding by applying it to my work.
Often when I paint, I put out lots of images of one or more artists whose work I admire. I know that
Dan Pinkham's
work totally exemplifies this color theory. David is often using Dan's work to illustrate what he's teaching us. So as I flipped from one of Dan's beautiful paintings to another, I began to create my own.
It takes time
At first I didn't like it much, but after many, many painting sessions, and many layers, corrections, subtle transitions, changes in value, etc. the painting began to grow on me. It took a great deal of work time and "sit and stare time" and some critiques by good friends before I was satisified with the results.
I finally think that now it's telling the story I set out to tell. -- The story of beautiful paint, interesting shapes, and engaging color as much as it is of a beautiful scene. So my "take two" is not just a different time of day, but a whole different way of putting paint down.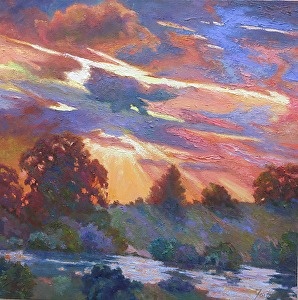 I like both pieces (or takes). I hope you do too!
Oh... and here are a few "close-ups" showing the brushwork:
I really enjoy "hearing" what you're thinking.
Comment