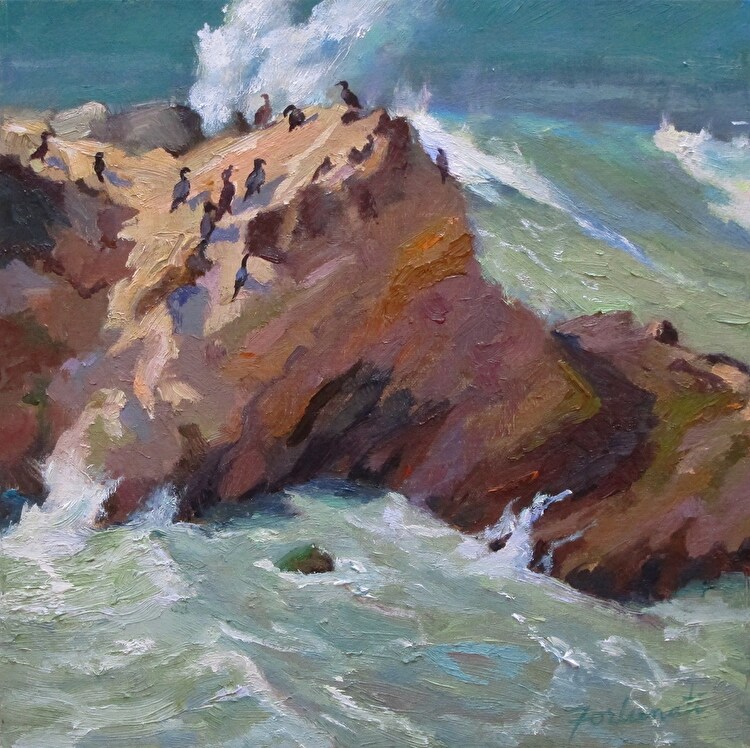 No worries really ... things have been going very well for me lately -artwise. I'm working on many paintings for two major shows with my PAC6 friends. My work has been juried in to quite a few shows all over the area and I've even gotten a nice big award.
On the small side of problems, I was delivering this painting called
"Cormorant Rock"
and two other paintings to a show up north when a lady backed in to my car. She wasn't thinking.... She didn't look. It wasn't a horrible crash although both of our cars will end up costing quite a bit to repair. But each of us could still drive away. We exchanged information and I went on my way. It has now been almost 6 weeks and she FINALLY called her insurance agent back. I had left a message on her phone but she didn't call me back, so I contacted her insurance. Then she didn't call them back so they sent me a letter saying that they couldn't do anything without hearing from her. WOW.... I guess I should have waited there for the police or something. Who knew that you could just not call back and basically put your head in the sand. Anyway all is well... she has finally called them so I guess we will both move forward with getting our repairs.
Really all of that seemed so trivial in light of the major health problems some of my friends have been having. Their journeys sap my heart. However these beautiful people have dug in and are fighting back. It renews my belief that each of us needs to do whatever we can to live well and do the things we want to do NOW... not wait.
My latest epic "head up my >>>>>" move relates to technology which I am totally addicted to (sad, but true). I got a new computer early this year because I was afraid my old one was on it way out. I was proud of myself for not waiting until it was gone. Unfortunately I have been backing all of my photos (family, events, trips, paintings ... ALL OF IT) onto an external hard drive -- all the while thinking I was being smart. NOT!!!! Stupidly, I never considered backing up that drive which I had been considering my back up. It really wasn't a back up since I deleted the photos off the computer once I stored them on my external drive.
Well you guessed it.... It crashed. I was even willing to pay the big bucks to recover the data but the company just wrote back that it is unrecoverable.
REALLY?
It is all gone. All the photos since Tyler was 4. All my reference photos. All of my finished artwork photos. My photos of my adventures to the Channel Islands, the Colorado River trip through the Grand Canyon, my trip to Canyon de Chelly with the PAC6 and our latest adventure packing in to the Sierras. GONE.....
Unrecoverable.....
So... compared to what my friends are going through this is really unimportant. I should have been more clear with myself about what I was actually doing. I shouldn't have assumed that that hard drive was invincible. It wasn't. Nothing is.
It is yet another reminder to live well. Let's keep making memories. Don't rely on your photos. Your memories are yours and they may be all you have.
*******************************************
accepted into the exhibit
"Make Hay While The Sun Shines"

Palm Loft Gallery
Carpenteria
June-July, 2016
"Cormorant Rock"
was selected by juror Kevin Adkins, Creative Director at the Washington Post
for inclusion in the national show
WATER WORKS
at the Annapolis Maritime Museum
Annapolis, MD
September 16-November 1, 2015
This painting was awarded a FIRST PLACE by juror Jason Dowd in the California Art League Holiday Small Works Show at the Modest Fly Gallery.
I've been going to Leo Carrillo State Beach to paint often lately. It is almost always nicer there than in the very hot Valley where I live. It seems, however, that each time I go, it is a bit different and I find another beautiful scene to try to capture.
Share This Post