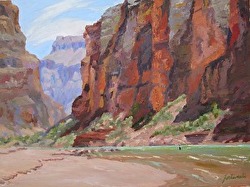 One of my favorite plein air studies from my trip down the Colorado River painting with Kevin Macpherson and many other fabulous artists was done in the afternoon of our lay-over camp at Fern Glen.
It was called
"Afternoon In Fern Glen Canyon"
.


I've been really trying hard to figure out how best to use the studies I do in the field. I actually like the plein air field work just because it gives me joy to be out there observing and really seeing such wonderful places. But I keep going back to HOW these studies should best be used. I know some artists never sell their studies, but usually those are what seems to be easiest to sell for ME. They are smaller and less expensive. I've taken some workshops and demonstrations to see how other artists use them and have found that many simply use them for inspiration. Their studio work may use parts of the study, but also includes imagination and parts of other studies.
While I was still enjoying the "glow" from my Grand Canyon trip and before the memories faded, I decided to use the Fern Glen study and a few photos of the area to do this studio piece. I liked the feel of distance in the far canyon walls in the study. I wanted to emphasize that distance along with trying to convey the awe-inspiring size of the canyon. My vantage point for the studio piece is farther along the river looking deeper into the far canyon walls. I also decided to include a person to enhance the enormity of the canyon walls. A couple of my fellow "river rats", Phil and Chris, spent part of their time during our lay-over in the canyon trying to catch fish and practicing their fly fishing casting skills. So this new painting includes one of them. The figure is pretty small so you'd probably have to click on the "click to zoom in" link on the work page to even see it, however.
The painting is titled "Casting About In The Great Unknown" as sort of a play between what we do as artists and the Grand Canyon/Colorado River trip. In his book about the first white men to travel down through the Grand Canyon along the Colorado River called "Down The Great Unknown", Edward Dolnick explains that John Wesley Powell who led the ten men on this exploration had absolutely no idea whether they would make it through, how far they would travel, or whether there were great falls like Niagara to be encountered along the way. Powell and his men continually referred to their journey as a journey through the great unknown. The casting is a reference to the fishermen. And I often feel like I am casting about and continually learning what I didn't know before while I explore my surroundings with paint.
As usual, I started off this studio piece with a tonal painting to kind of place the elements of the painting and to get three general values in.

I chose the size because while I wanted to do a larger painting, I had a show in mind to enter and the largest size was 18x24. So this is 18x24. I tried to vary my brushwork, including both thick and thin paint and some palette knife work. I really had fun with this painting. I'm sure you know the variety of feelings one gets while working on a piece. There is the euphoria when things are going well and the dispair when things sort of head down hill.

Happily with oil, when things aren't as you hoped, you can scrape or layer over. I did both and was quite happy with the outcome.
This painting called
"Casting About In The Great Unknown"
and my other recent studio painting called
"Blacktail"
were both juried into the show which opens today at the Burbank Creative Arts Center. Perhaps you live somewhere nearby and will get a chance to go by and see this and the work of other artists that was accepted in to the show. Here is the banner for the show in case you'd like more details:
Reception July 12, 7 - 9pm

Burbank Creative Arts Center
1100 West Clark Ave
Burbank, CA