Efforts are being made to return parts of the Los Angeles River back to its orginal riparian state. I found this great egret on a Sunday morning walk along the Glendale Narrows section of the LA River.
A Facebook friend named Charlie Morey takes fabulous photos of all sorts of birds he finds on his river walks. If you get a chance, check out his photos on FB.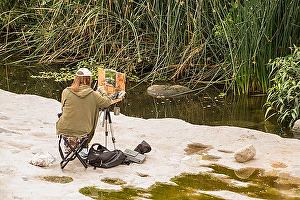 He's the one who told me where to find this beautiful area. When I was there the first day apparently he was there too. He came by to say hi. I didn't realize it, but he took a photo of ME! (Just another bird along the river!! LOL)
I went back yesterday because I was in the area picking up paintings from a show that was closing. The day was an unusually overcast July day caused by a tropical depression. It sprinkled from time to time, but was still quite warm (and humid) I had a great walk, but the only birds I saw were families of ducks and pigeons. Actually that's not true... I also saw some interesting birds which reminded me of the sandpipers I see on the beach, but they were much louder as they shouted at me to go away. They could have been terns. I'm going to have to learn to be a better bird identifier. Anyway, I was looking for the bigger birds like the herons and the egrets.
I googled heron because I wanted to know what kind of heron (grey or blue) I had seen the first day and was suprised to learn that herons and egrets are in the same family. Actually now that I think about it, I shouldn't be surprised because their body shapes are so similar, but I was.
I painted this little 8x6 study of a wonderful snowy egret or great egret while I visited the first time. He stayed there in his clump of duckweed for a really long time waiting patiently for a fish or lizard or other delectable morsal to wander by. Sadly, I wasn't as patient as he was. I decided I wanted to get closer and off he flew. Harumph!!!
I had hoped to do more sketches yesterday, but didn't see any likely models. I'll go back to paint again for sure!
Comment on or Share this Article >>